Micro-Needling
Scientific solution for the most common symptoms of aging
Promote skin repair and reduce the appearance of wrinkles, scars, stretch marks with the complete Dermaroller® Collagen Induction Therapy
The Benefits Of Micro-needling:
Reduce Wrinkles
Tighten & Tone
Treat Scars & Stretch Marks
Improve Texture & Thickness
How It Works:
The eDermaStamp® by Dermaroller® causes minimally invasive precision micro-injuries of the epidermis and dermis, without causing open wounds or ablative damage. The puncturing channels close after a short time and these micro-injuries trigger the body's wound healing cascade, which induces an increased collagen production in the treated skin. The eDermaStamp® by Dermaroller® triggers the construction of new tissue by stimulating healthy cell regeneration in precision-targeted areas that show the signs of aging. It effectively reduces wrinkles, tightens and thickens the skin, and – perhaps most impressively – fills and smooths scars.
1. Treatment
The eDermaStamp® by Dermaroller®'s surgical-grade micro-needles reach beyond the epidermis into the dermis, causing pin-point bleeding and triggering the body's spontaneous healing response.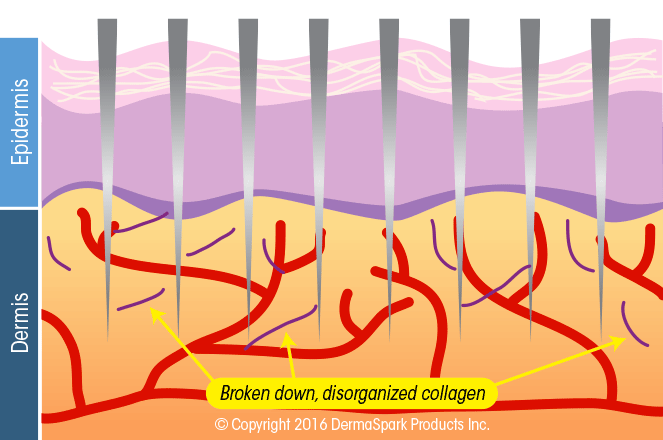 2. Healing Cascade
Within minutes, the perforation channels close and the healing cascade starts, invading the area with collagen-producing fibroblasts and growth-promoting properties.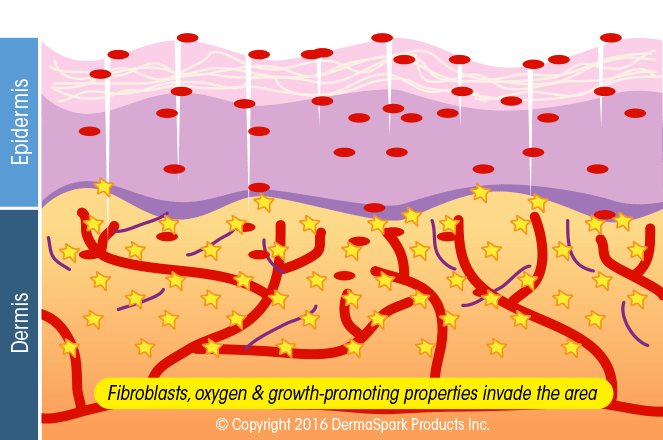 3. Younger Looking Skin
New organized collagen & elastin forms, bolstering from within, while the epidermis becomes thicker and more supple, each time a treatment is performed.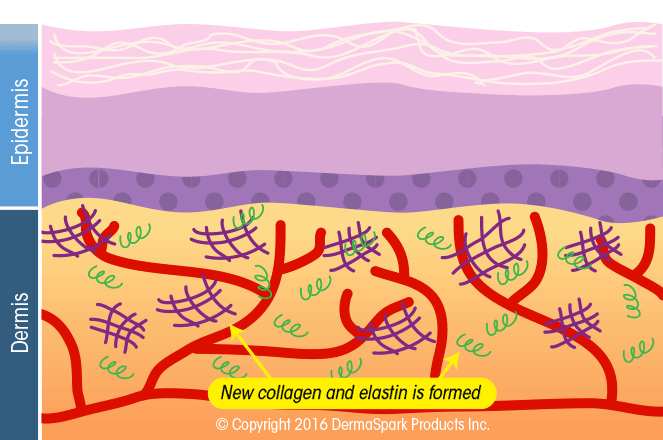 Micro-Blading
What is Microblading?
Microblading, also known as Eyebrow Embroidery is a procedure categorized under permanent makeup, but unlike traditional cosmetic tattooing, it is less invasive and is considered semi-permanent. Microblading typically lasts 1-3 years, depending on skin type and skincare routine.  The procedure is done by using a hand tool with ultra fine needles and each 'hair' is gently etched into the skin, giving an incredibly natural and realistic look. Microblading can dramatically correct or fully reconstruct lost eyebrow and is excellent for those wanting to enhance their brows or who have little to no eyebrows, thinning brows from age or over tweezed brows. Pigments used are chosen to match the natural or desired brow color and skin tone will also be taken into consideration.
How long does it take?
For the fist Microblading session, the entire procedure should take about 2-2.5 hours.During this session, the brow technician will shape and style the client's brows for client approval. We then follow with pigment color selection.  Once the client is satisfied with the choices, we begin the procedure.
The client is to come in for a follow up visit in order to have any minor necessary touch ups. The second Microblading session takes place after 4-6 weeks after the initial session. This session will take approximately 1.5-2 hours to complete.
How long does it take to heal?
The eyebrow area will be slightly red after the procedure and color will appear dark. This is normal for the procedure and part of the healing process. The color will fade by up to 40% as it heals. In the following days, the eyebrows will continue to be dark and you will notice slight scabbing. Do not pick at the scabs as this may damage the skin and the outcome of the microbladed area. The eyebrows will lighten up in color as it heals. No down time is required aftermicroblading procedure.  It takes approximately 7-14 days for the brows to heal over, and about 1 month for the color to fully set in. You'll notice the color is very light right after the two weeks after healing; the skin will have an opaque milky looking quality to it. This is known as the milk skin and is common in tattooing. This is due to the the tissue still healing from the inside out even though the surface of the skin is healed. True color will reveal itself once healed.
Is the touch up session necessary?
Yes! A touch up session after 4-6 weeks is necessary as everyone heals differently and outcome will vary. Certain areas may not pick up during first session and will need to be refilled. Pigment color may need to be adjusted, brow thickness and more strokes can be added. Individuals with oily skin often require a deeper shade during the touch up session as the oils tend to lighten the pigment. Most importantly, your touch up session is when we refine your brows to ensure it looks perfect and retains the color for the whole year!
Can I get my touch up session sooner than 4 weeks?
Touch up sessions should not be done earlier than 4 weeks after initial microblading session as pigment color has not fully settled into the skin. Most importantly, this is to prevent scar damage as the tissue requires time to completely heal.
Is it painful?
The pain level for the procedure is considered mild to none. Prior to the procedure your brow technician will apply a topical anesthetic to numb the area, and also reapplied during the procedure. Everyone responds differently to anesthetic; depending on the client, the feeling of the procedure has been described as light cat scratches to not feeling anything. Topical anesthetics used may contain lidocaine, prilocaine, benzocaine, tetracaine and epinephrine.
After the procedure, redness and slight swelling in the area is normal. Clients describe the area feeling similar to a light sunburn. Clients can take Tylenol but not aspirin or ibuprofen.
How long does it last?
Since microblading pigments are not implanted into the skin as deep as traditional tattoos, the area will naturally fade overtime. Microblading typically lasts 1-3 years, depending on skin type (normal, oily, dry), age (youthful/mature). Skincare routine will also affect the lasting effect of the pigment: patients who tan, uses products with AHA or Glycolic Acid with fade faster as your skin will resurface faster. Each individual's color retention within the skin will vary. To maintain the brows looking fresh, a touch up is suggested every 12-18 months. Clients can let the microbladed area fade over time, but please note a slight shadow may remain.
What are the pre and post care procedures?
In order to achieve the best results, it is best to follow the pre and post care instructions.
Prior to your procedure, clients are advised of the following:
Avoid alcohol and aspirin/ibuprofen and any vitamins that may thin your blood for 72 hours.
Avoid tanning so we can assess your natural skin tone.
No face scrubs or chemical peels at least two weeks prior
Feel free to come in with their brow makeup on so our technician can see your every day look you prefer. Reference pictures of shapes and colors of brows are always welcomed. We will then work together to create the perfect brows!
After your procedure, clients MUST follow these instructions:
Within 2 hours after the procedure, clean brows using a q-tip and lightly moisten with distilled or cooled downed boiling water. Gently wipe away the old healing balm and any lymphatic liquid (clear yellowish liquid) that may have built up. Lightly pat dry with tissue and using a new q-tip, re-apply healing balm to the brows.
Make sure to apply a light layer of healing balm morning and night to brows for at least 5-7 days.
Do not over apply healing balm.
Do not immerse brow area in water for 14 days. When showering, make sure to avoid face area. When cleaning or washing face, make sure to avoid brows and clean around it.
Do not put makeup on the brow area for a minimum of 10 days. Microbladed area is an open wound, using makeup may cause infections.
Avoid alcohol and aspirin/ibuprofen and any vitamins that may thin your blood for 24 hours.
Brow area will feel slightly itchy as it heals and will start to lightly scab over. Do not peel or pick at the scabs as this can affect the outcome and pigmentation.
Do not go swimming, tanning or into saunas for at least 14 days.
No face scrubs or chemical peels at least 2 weeks after.
Who is not suitable for the procedure?
Microblading is not suitable for the following candidates:
Using Accutane
Have heart conditions or using heart medications
Have diabetes (will require a physician's note)
Have skin disease or irritations
Have had Botox in the last 2 weeks
Have gotten a deep tan or chemical peels in the last 2 weeks
Allergic to lidocaine, prilocaine, benzocaine, tetracaine or epinephrine
Anyone who has any serious medical conditions may require a physician's note.
Pregnant or nursing clients who want to microblade can be done at your own discretion. We suggest discussing with your doctor first. Microblading is still considered a tattoo, and just like with wine or sushi consumption, it is a personal choice to do so during this period.
* We reserve the right to refuse service to anyone who we deem not suitable for this procedure or for any other reason. Our brow technicians make the decision to microblade an individual based on their own discretion. *
Risks and complications?
We take all proper precautions for a safe session by using sterilized equipment, new needles and in a sanitized environment. Should clients follow our pre and post care instructions, there should be minimal risks or complications . Although allergic reactions to the pigments are rare, it could be possible for certain individuals. We suggest a pigment patch test for individuals who have high skin sensitivities or are sensitive to:
Topical makeup products
Gold, silver and nickel
Hair dyes
Patch tests should be performed 5-7 days prior.
What if I do not like it?
As with all cosmetic procedures, individuals should not make their choices lightly. We always recommend clients do their research, understand the procedure and compare different artists' work and portfolio when making their decisions. Our brow technicians will do their utmost to shape and style the eyebrows to the clients satisfaction prior to the procedure. Every effort will be made to achieve an even appearance, but please realize our faces are never perfectly symmetrical. Uneven appearance can be fixed during the touch up session. Pigment discoloration and color correction can also be fixed during the the touch up session. Microbladed brows will eventually fade away if no additional touch ups are done.
What are your cancellation or missed appointment policies?
Clients are able to cancel or reschedule appointments at anytime with a minimum of 48 hours notice prior to the appointment time, otherwise a fee will be charged. Confirmation of cancellation will be done by email or phone. We reserve the right to refuse service to clients who have cancellations or rescheduling of appointments 3 times in a row.
                                                                      Facial Contouring
Our Facial Contouring packages are combined with our European line of skin care to enhance your results. Using the revolutionary technology of Exilis Elite, we stimulate collagen production to tighten and strengthen the skin. You'll notice a dramatic reduction of wrinkles and a lifted appearance. Click here read more about the technology and benefits of Exilis Elite.
Rejuvenating Facials
Youthfulness (Dermalyse)
This extraordinary facial reveals younger, more vibrant and purified skin. We use the Dermolyse biological peel to give you fresh, toned, and revitalized. We customize each facial to give your skin what it needs the most, after the Dermolyse peel we infuse your skin with either the Collagen Biomatrix or Voile Lifting mask. Our Youthfulness facial delivers dramatic results that leave your skin supple, hydrated, and firm. This anti-aging at it's finest.
More on Dermolyse
Dermolyse is an award-winning advanced bio-active exfoliating formula that uses enzymes to directly target dead cells and leave healthy ones intact. The digestive enzymes penetrate deeply in the pores, eat away all dead cells, and reduce blackheads to their fluid state. They dissolve cholesterol inclusions (fat deposits) and pigment (brown spots). During the breakdown they respect cells that are healthy, thus rendering them healthier by this process.
More on Collagen Biomatrix
Collagen is essential for beautiful skin as it gives the skin its firmness and elasticity. The Biomatrix of pure collagen is the only product that contains native collagen at 97.9%, making it a powerful treatment for damaged or aging skin. This mask will soften skin and make is smoother by the activating the process of cellular renewal. The appearance of wrinkles and expression lines are reduced throughout the entire face.
More on Voile Lifting
Created with botanical peptides, Voile Lifting diminishes the appearance and wrinkles and slows the appearance of new wrinkle formation by reducing muscle contraction up to 24 hours after the treatment. Using the power of hydrolyzed hibiscus extract, it is highly effective for combating free radicals and delaying skin aging. This is a must-have treatment before a special event!
Which skin types will benefit from this facial?
All skin types will benefit from this facial either as a healing treatment or prevention. We highly recommend it for aging, acne-prone, and uneven skin. It's always a brilliant choice to freshen your look before a special event. For damaged or very mature skin, we suggest five treatments in a row for significant anti-aging and rejuvenating results.
OxyGeneo 
Patented OxyGeneo™ technology provides unparalleled skin nourishment & oxygenation, revealing younger looking skin after just one treatment.
Our facials are just as transformative as they are relaxing. Using the highest-quality European products and cutting edge technology, we deliver powerful anti-aging and rejuvenating treatments for all skin types.
European Curing
This gentle yet powerful facial brightens and rebalances the skin. We use the Dermolyse biological peel to give you fresh, toned, and revitalized skin. Then we apply the creamy rebalance mask to soften and hydrate the skin. It's purifying properties such as apricot oil and vitamin E regenerate and even out the skin.
Which skin types will benefit from this facial?
This gentle facial is ideal for all skin types as it rebalances oils and hydration. We highly suggest this treatment for sensitive skin or inflamed skin as the active ingredients will nourish and regenerate the skin. It's a gentle treatment for acne prone and combination skin types.
Purity
Our purity facial is designed to brighten complexion and smooth out the top layers of the skin. Using the Fruit Peel, we eliminate dead cells and impurities from the skin while tightening the pores. Then we apply the creamy rebalance mask to soften and hydrate the skin. It's purifying properties such as apricot oil and vitamin E regenerate and even out the skin.
More on the Fruit Peel
The magic of this fruit peel is the papain (from papaya) that acts a soft and natural gum with softening and smoothing properties. It allows the destruction of dead cells without affecting healthy cells. The papain from the papaya and the bromelain from the pineapple are natural enzymes known for their digestive properties of protein links retaining dead cells from superior layers of the skin. Through this gentle exfoliation, they stimulate cellular renewal and refine skin grain.
Which skin types will benefit from this facial?
This powerful yet mild peeling facial is idea for all skin types. We highly suggest it for oily and dehydrated skin. We suggest this facial for anyone with enlarged pores, as it will facilitate the extraction of blackheads and clogged pores.
Ultra Soothe
This is our super-moisturizing and replenishing facial that hydrates both the surface and deep tissues of the skin. We start with the Fruit Peel to eliminate dead cells and impurities from the skin while tightening the pores. We then apply the nourishing Algae mask for a powerful dose of moisture that softens and smoothes out the skin.
More on the Super-moisturizing Algae Mask
The marine algae used in this mask are hydrating, re-mineralizing, revitalizing, stimulating, anti-bacterial and anti-inflammatory. Rich in minerals such as copper, zinc, magnesium, and iodine, it's a true cocktail for regenerating skin. The minerals contribute to the restoration of natural elastin in the skin.
Which skin types will benefit from this facial?
This facial is ideal for all skin types as it is gentle and replenishes skin with a heavy dose of minerals. We highly suggest this facial for dry or mature skin and for very sensitive skin prone to redness.